How to make the best Matcha Latte (dairy-free)
Jump to Recipe
How to prepare the best Matcha latte without a barista? I share all I know about matcha, essential tools, and my go-to recipe for a better-than-Starbucks matcha latte alternative.
There are some essential variables for making a matcha latte without the help of a professional. I have seen how the baristas at the local coffee shop make it, and I tried the ones made in Japan, where locals showed me the traditional way to do it at various matcha cafes around Kyoto.
This latte recipe is quick to make and offers all the matcha tea benefits you want in your drink. It can be made with your non-dairy milk of choice to create an anti-inflammatory drink that is great to enjoy in the morning or as an afternoon pick-me-up.
If you want to switch up your morning coffee for a different hot or cold drink a couple of days of the week, this iced matcha latte recipe needs to be part of your repertoire. Make it hot or cold depending on the weather, and use high-grade matcha powder to get only the best flavor and benefits of the leaf.
What is matcha?
Matcha is a variety of green tea leaves grown in Japan and ground as a fine powder used in teas, lattes, and baked goods. Other green teas are produced in different parts of the world, but authentic matcha only originates in Japan and should not be confused with sencha, the green tea found in tea bags.
Matcha green tea contains more caffeine than other green teas, and when mixed with water, the tea creates a matcha mixture that makes hot and iced matcha lattes creamy every time.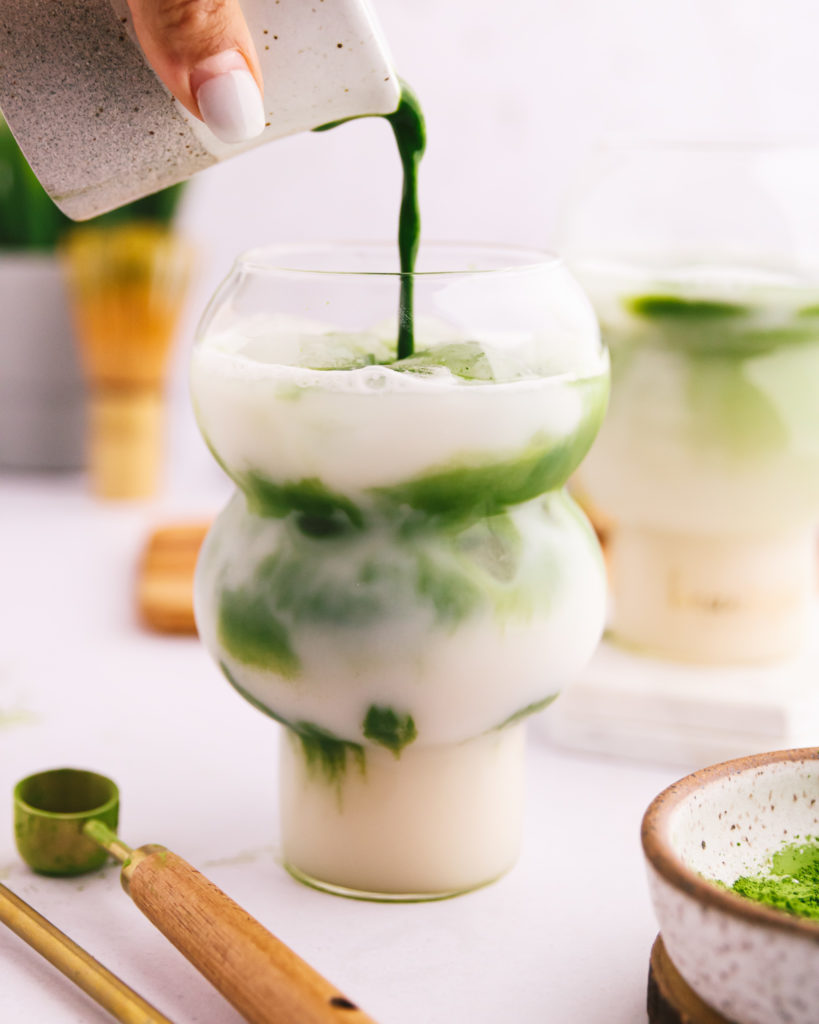 How many types of matcha are there?
Matcha is sold in very different quality grades and price points. This quality is determined by where it is grown, how it is cultivated when harvested, and how it is processed. There are three categories to choose from when using matcha powder:
Ceremonial grades
They tend to have a flavor suitable for traditional teas; they can be mixed with hot water and whisked to enjoy. The Ceremonial grade matcha also has a more vibrant green color.
Culinary grades
Culinary grades come from tea leaves and work well with baked recipes, smoothies, and even lattes. The color is also vibrant.
Ingredient grade
This type of matcha tends to have more of a yellow share, and its bitterness is more pronounced. It is often used as an ingredient in food and is more affordable.
I recommend using a high-quality matcha powder such as ceremonial-grade matcha powder to make your lattes.
What are the benefits of matcha?
Regarding health benefits, matcha is one of the most concentrated sources of antioxidants on the planet that help fight off free radicals, the molecules nutritionists believe to be responsible for tissue damage and inflammatory issues. One of the antioxidants found in matcha, for example, has been shown to help support human metabolism and aid in weight loss.
How is matcha prepared?
Coffee shops in Japan and around the world usually use a bamboo whisk or electric milk frother to blend a small amount of high-quality matcha powder with hot water. As both ingredients incorporate, the result is a matcha paste paired with milk and flavored with a natural sweetener to create a comforting latte drink.
Does matcha latte have dairy?
Traditional Matcha Latte or the standard Starbucks Matcha Latte is made using cow's milk. Also, If you are looking for an artsy matcha green tea latte like the ones you see at coffee shops, cow milk is the milk to go for; I learned these tricks watching baristas create the most beautiful art only with regular milk.
What dairy-free milk goes best with matcha?
Almond, coconut, or oat milk are great alternative milk options. Nondairy milks produce a delicious creamy taste, with a rich aroma.
I suggest trying yours with different types, such as cashew milk, to help you find your absolute favorite. All alternatives deliver a delicious creamy taste that is aromatic and safe if you are intolerant to dairy.
I like mine with almond milk when I am planning on an iced latte or oat milk when the temperatures drop, and all I want is a hot matcha latte at home.
How do you thicken a matcha latte?
Using an electric frother to ensure the foamy texture of the milk is a good idea; adding the milk and mixing it up slowly until reaching the desired consistency also helps.
How to make the best Matcha Latte
In sum, getting a good matcha powder is the key to making a matcha recipe. Since the quality can vary, it is better to spend a little extra to make a matcha latte. Remember to stay away from matcha that looks brown as a rule of thumb and try different dairy-free options to avoid inflammation.
What do you need to make a vegan matcha latte?
Organic Ceremonial Matcha matcha powder.
Boiling water
Date syrup or maple syrup
Nut milk, coconut milk, or oat milk (unsweetened)
Ice (for the iced version)
Matcha whisk
Mason jar
A small bowl or a blender bottle to dissolve the powder if you don't have a bamboo whisk.
To check out all the details to the recipe, make sure to review the card below and print it to make the process easier for you. Also, let me know if you made this and if you love this matcha latte after trying in the comment section below.
High-grade iced matcha latte recipe (dairy free!)
Course: Drinks
This latte recipe is quick to make and offers all the matcha tea benefits you want in your drink. Make it with your nondairy milk of choice to create an anti-inflammatory drink that is great to enjoy in the morning or as an afternoon pick-me-up.
Ingredients
One teaspoon of matcha green tea powder (I used Organic Ceremonial Matcha).

¼ cup hot water

1-2 tablespoons date or maple syrup

1 cup oat or almond milk (unsweetened)

1 cup of ice
Directions
In a small bowl, whisk the matcha powder with hot water until a froth forms – this should take about a minute.
Set this mixture aside to cool down.
Assemble the drink; start by adding your sweetener of choice to the glasses.
Then, follow that with ice and your milk of choice.
Finish with matcha tea to create a beautifully layered matcha milk tea drink. Stir a few times to incorporate the sweetener, and then serve straight away.
Recipe Video