Jump to Recipe
This is a sponsored post written by me on behalf of Honey Smoked Fish. All opinions are 100% my own.
This smoked salmon salad combines chickpea pasta, kale, tender corn, and smoked salmon. It is paired with a creamy avocado dressing, making it the perfect lunch today or meal to prepare for the week.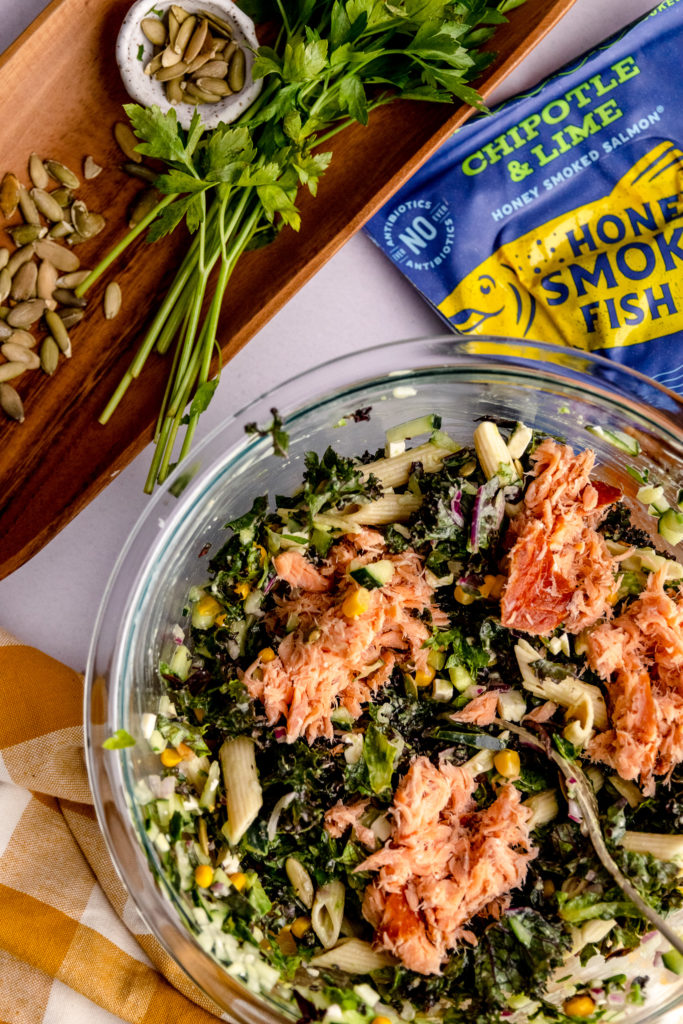 It might be winter, but I am still rocking the leafy greens and the good fats! I've partnered with my friends from Honey Smoked Fish CO to make The Smoked Salmon and Kale Salad with good fats, fiber, and protein. it can be made in 20 minutes and is worth a try.
Why you will LOVE This Salad?
Besides being a great meal prep option, I love this salmon salad because it contains protein, good fats, fiber, and great flavor. Plus, the fact that you would be adding hot smoked salmon makes it a really easy salad recipe to prepare in 20 minutes max.
Another reason to love this meal is that adding the dressing to your salad whenever you are ready to enjoy it and not all at once will prevent the salad from going bad quickly. Pre-portioning it in an airtight container and adding the dressing right before you eat it will keep it fresh and delicious in your refrigerator for a couple of days.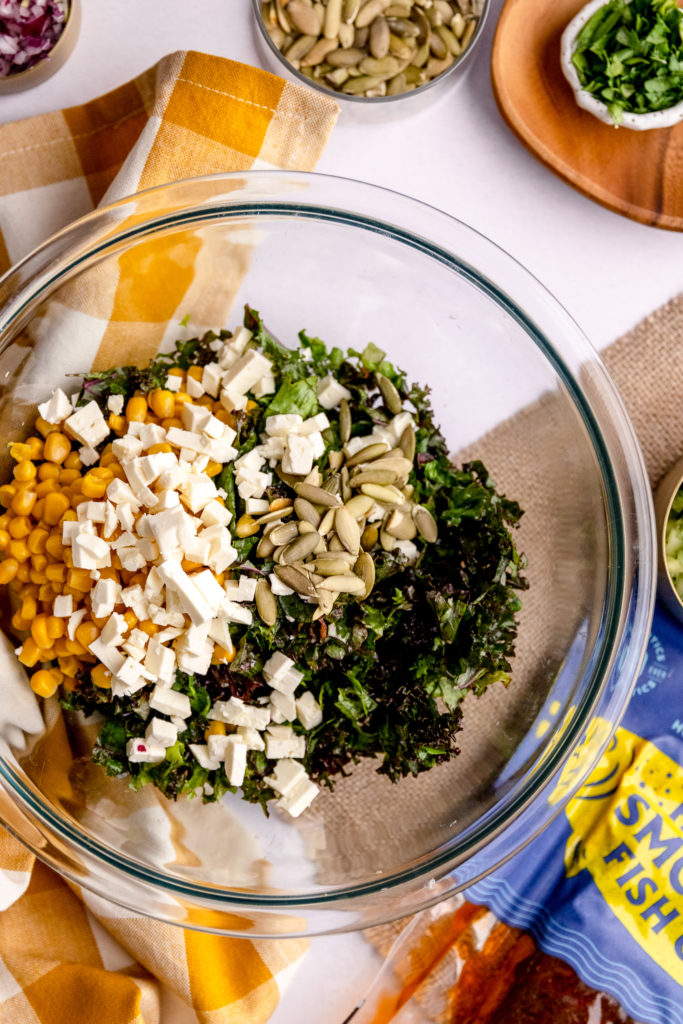 Salmon faqs
Is smoked salmon healthy?
Smoked salmon contains a high protein content and has plenty of nutrients, vitamins, and omega-3 oils. It is rich in B vitamins which help us process the foods we eat into energy.
Honey Smoked Salmon, the fish I am using for this salad, is a great source of Omega-3, which may help lower blood pressure and reduce the risk of hypertension and coronary heart disease. It also offers you Vitamin-A, D, B6, niacin, riboflavin, calcium, iron, and zinc, which makes this salmon salad a nutritious powerhouse.
In summary, salmon has a high concentration of Omega-3 fatty acids, which might help reduce cholesterol and lower the risk of heart disease and strokes. Pretty sweet, right?
I recommend enjoying your smoked salmon occasionally and pairing it with whole foods and vegetables to make it extra nourishing.
Do you have to cook smoked salmon?
No, old-school fish markets smoked fish to add flavor and preserve it. To make this salad, I am using Honey Smoked Fish salmon; hot smoked in a process that captures and improves the highest quality cuts of fish, making it the best-smoked salmon.
I love hearing this because they focus on creating a nutritious, crave-worthy fish that we can enjoy immediately, with no cooking needed, which is very convenient when meal prep time comes around.
How are cold-smoked salmon and hot-smoked salmon different?
No, there are two variations of smoked salmon: hot smoked salmon and cold smoked salmon. During the hot smoked process, salmon gets a wet brine, smoked at high heat in small batches. Instead, cold-smoked salmon is salt-cured and smoked at lower temperatures which makes it raw.
What is the difference between farm-raised and wild-caught salmon?
While overfishing has become a significant issue with wild-caught Alaskan salmon, ocean farm-raised Atlantic salmon stock is stable and raised under 3rd party certified guidelines for environmental, food safety, and social accountability, making this salmon more affordable and better for the planet.
Is smoked salmon sustainable and good for the planet?
All Honey Smoked Fish's salmon is sourced and certified sustainable from ocean farms. You can learn more about their eco-friendly aqua cultural certification practices used to supply farms here.
How long can you keep salmon salad in the fridge?
This smoked salmon salad can be stored in the refrigerator for three days. Remember to add the dressing only when ready to enjoy the salad fresh. Salads get soggy quicker than most pre-made foods due to the dressing's acids from lemon juice, vinegar, and salt that drain out vegetable water faster and will leave you with an old-tasting salad.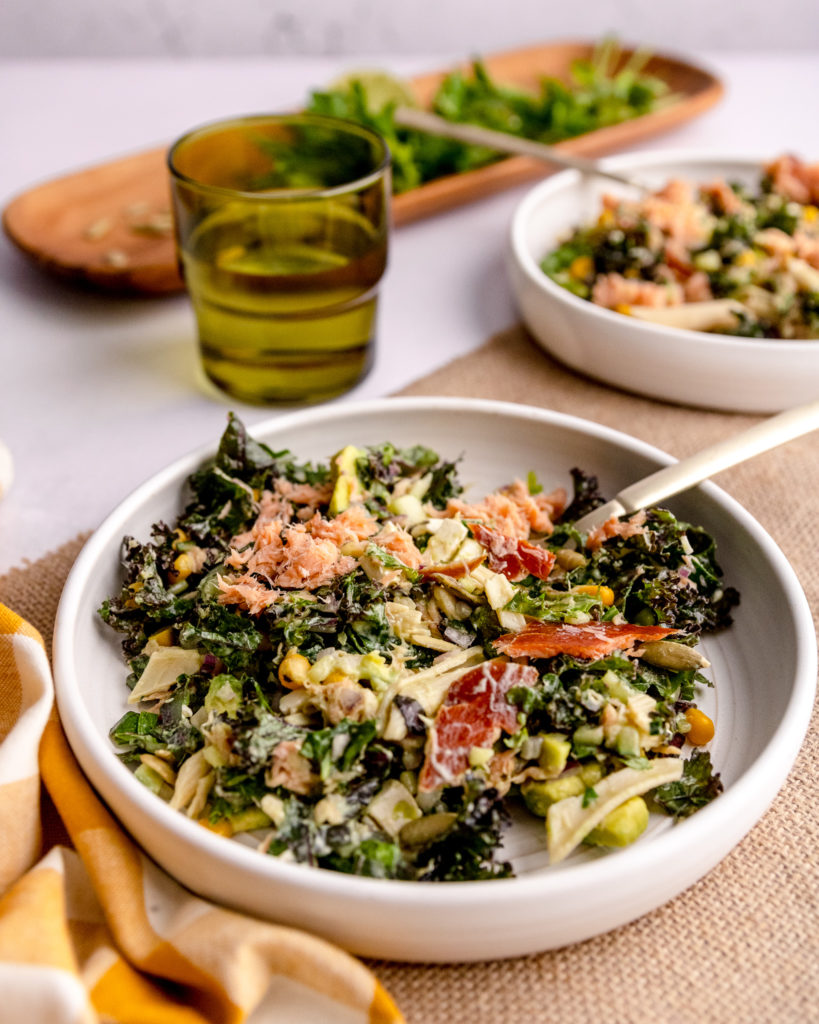 The smoked salmon salad dressing
I love good dressings but never actually use stored-bought ones; I find them boring, they have so many ingredients I can't pronounce, and their flavor is so weird they end up ruining an amazing salad for me.
I recommend not sabotaging your healthy meal and instead making your dressing at home for the best flavor. My ingredients of choice always include fresh lemon juice, avocado oil mayonnaise, greek yogurt, dijon mustard, apple cider vinegar, shallots, and garlic. This time, I used avocados, greek yogurt, fresh lemon juice, olive oil, and pepper to taste for this specific dressing.
Dressing variations
For dressing variations, I would encourage you to get creative with all the above-mentioned ingredients; think of a fresh dill dressing or ingredients like olive oil, shallots, lemon juice, and apple cider vinegar that always go well together.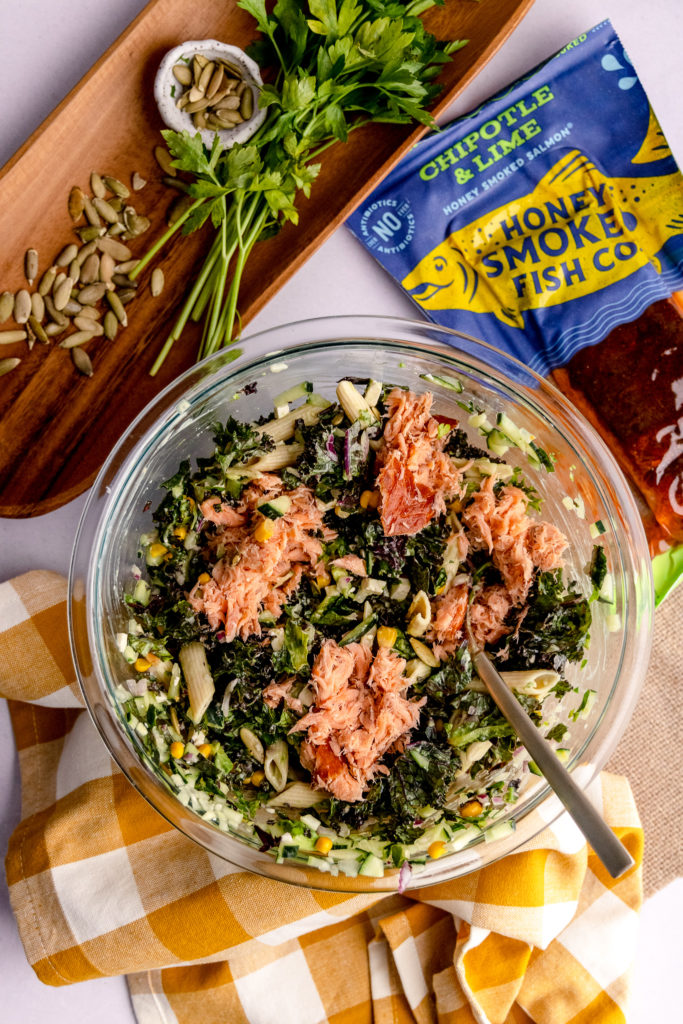 Ingredients needed for the salad
Honey Smoked Salmon Original Flavor fillet cut into salmon pieces
Kale and romaine lettuce
Organic canned corn
Cucumber
Red onions
Avocado
Chickpea pasta
Pumpkin seeds
Fresh parsley
Feta cheese (optional)
Ingredients needed for the dressing:
Avocado
Greek yogurt
Fresh lemon juice
Olive oil
Salt and pepper to taste
To check out all the recipe details, review the recipe card below and print it to make the process easier. Let me know if you made this meal and if you want to get more salmon recipes in the comment section below.
Meal prep smoked salmon salad with creamy avocado dressing
Course: Salads
Difficulty: Easy
This smoked salmon salad combines chickpea pasta, kale, tender corn, and smoked salmon. It is paired with a creamy avocado dressing, making it the perfect lunch today or meal to prepare for the week.
Ingredients
Side Salad

1 Honey Smoked Salmon Original Flavor fillet cut into salmon pieces

1 cup kale

1 romaine lettuce

1 organic canned corn

1 cup cucumber, diced

1/2 red onions, chopped

1/2 avocado, chopped.

1 cup chickpea pasta

Two tablespoons pumpkin seeds

One tablespoon fresh parsley, chopped

1 cup feta cheese (optional)

Salad Dressing

1/2 avocado

two tablespoons greek yogurt

One tablespoon fresh lemon juice

One tablespoon olive oil

Salt and pepper to taste
Directions
Shred the salmon.
Mix kale, romaine lettuce, baby corn, cucumber, red bell peppers, red onion, avocado, pumpkin seeds, feta cheese, and fresh parsley.
To make the dressing, blend half an avocado with Greek yogurt, lemon, olive oil, salt, and pepper.
Serve the salad with the dressing and enjoy.
Recipe Video