This is a sponsored post written by me on behalf of Timeline Nutrition. All opinions are 100% my own.
What if you could get the energy your body needs without caffeine? Well, making a balanced smoothie could be just what you need. This dairy-free smoothie will give you the daily energy needed to go through the day feeling your best, with the benefits of improved mitochondrial health and reduced inflammation of your cells.
This smoothie is one of my favorite recipes I've created for the blog. It is quick and guaranteed to make breakfast time a breeze. You can enjoy it at home, after a workout, or on the go.
These are some of the frequently asked questions:
What can I put in a smoothie to make it a nourishing meal?
My number one tip for making smoothies that are good for blood sugar balancing is always to add a good fat like nut butter, avocado, chia seeds, or flax seeds. A high-quality protein powder and high in fiber frozen fruits such fresh fruit as berries, vegetables, or leafy greens like spinach or kale.
I'm also going to going to suggest you skip dairy milk for almond milk. Incorporate a high-quality supplement such as Timeline Nutrition's Mitopure, which contains Urolithin A, to add a nutrient boost to your smoothie. "Mitopure supports your cells to ensure they operate at maximum capacity keeping you energized from the cellular level.
What makes this fiber-packed smoothie recipe better than others?
This recipe includes Mitopure, a supplement I've enjoyed for months. Mitopure is great for muscle recovery and cellular nutrition. I recommend you try it to boost your muscles and make your smoothie ten times more powerful.
For this specific smoothie, I used Mitopure Ginger Powder which pairs well with delicious recipes like your berry smoothie, tropical smoothie, green tea smoothie, or a smoothie bowl if you are looking for that creamy texture at breakfast time.
But wait! What is Mitopure?
Let me tell you all about it and why I like it so much. Scientists identified a nutrient derived from pomegranates that promotes the cellular renewal process. It is called Urolithin A, which helps increase our body's energy production by targeting the mitochondria part of the cell.
In other words, Mitopure is a form of Urolithin A, a natural substance made by our gut microbiome after we eat certain foods like pomegranates, berries, and some nuts. It helps to energize you at the cellular level. Sadly, only 1 out of 3 people have the ability right microbiome to convert these foods into Urolithin A, so most of us have to rely on supplements to get the benefits.
While Mitopure does not give you the instant energy boost you get from caffeine, it does target the root of your energy by improving mitochondrial health, increasing cellular energy, muscular strength, and performance.
Now, let's talk smoothies!
Can you make a delicious smoothie without milk?
Absolutely! Water helps you make the sweet flavor of your smoothie more refreshing. Coconut water is a great alternative to make your drink an electrolyte powerhouse and pairs well with any tropical flavor. Feel free to swipe the nut milk for coconut water in this recipe to enjoy a more refreshing drink.
How do you thicken a non-dairy smoothie?
Thicken lactose-free smoothies using your favorite plant-based milk alternatives such as almond, coconut, or cashew milk. I always reach for the unsweetened option to avoid fillers and unwanted sugar my body does not need.
Substitute the frozen fruit for fresh fruits and add more veggies to get a thicker texture; these make your smoothie bowls creamier and higher in fiber and antioxidants. If you are looking for an even denser smoothie, adding frozen cauliflower or gluten-free oats might be the way to go to guarantee a drink that not only tastes amazing but is also the best post-workout snack with no added sugars.
How to add protein to dairy-free smoothie recipes?
A well-balanced dairy-free milk smoothie is important if you are making it a full meal. By adding a high-quality protein powder, hemp seeds, Mitopure for cellular health, plus a good source of fat and fiber, you are ensuring an optimal meal for blood sugar balancing and muscle recovery; in other words, this is a great formula for the best dairy free smoothies that are also healthy and nourishing.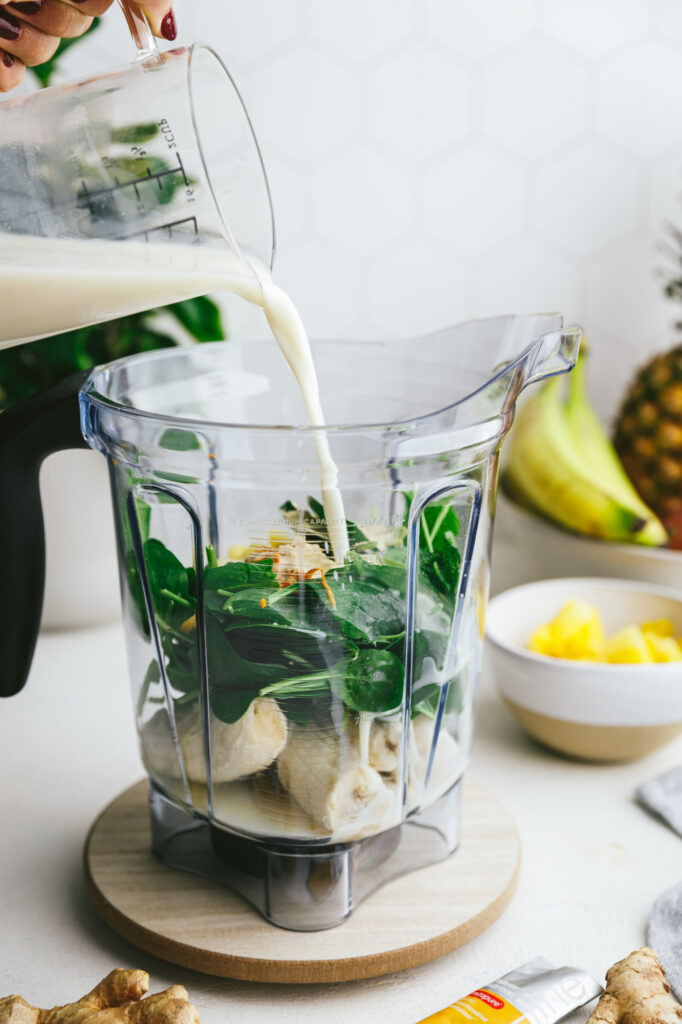 What's the best time to have a smoothie?
Breakfast and post-workout times are always good times for smoothies. If you are short on time to make lunch, try a simple smoothie every now and then and try adding gluten-free or paleo granola to it to give yourself a chance to chew some food. Replacing all your meals with only smoothies is probably not the way to go, so make sure to enjoy solid foods throughout the day.
What ingredients do you need to make this fiber-packed dairy-free smoothie recipe?
One sachet of Mitopure Ginger Powder
3/4 cup frozen strawberries
3/4 cup frozen raspberries
One banana peeled
One large orange peeled
1.5 cups almond milk or alternative
One scoop of vanilla protein powder.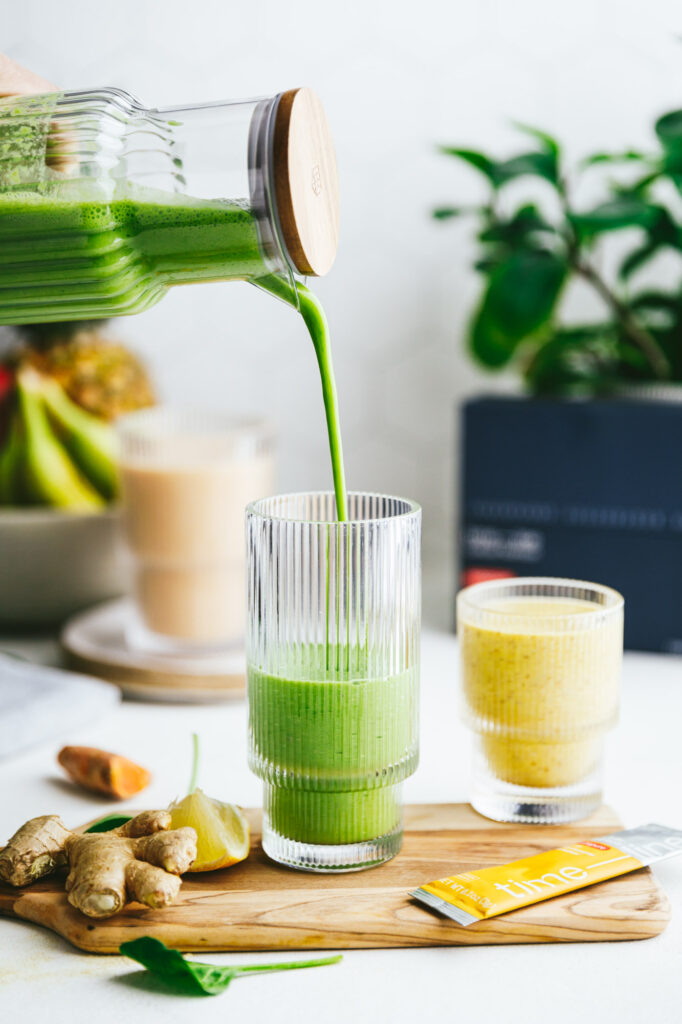 I hope you enjoy this recipe as much as I do. To check out all the recipe details, review the card below and print it to make the process easier. Also, let me know if you made this recipe, and don't forget to check out the latest recipes on the blog.
FIBER-PACKED SMOOTHIE RECIPE (DAIRY FREE!)
Ingredients
3/4 cup frozen strawberries

One sachet of Mitopure Ginger Powder

3/4 cup frozen raspberries

one banana peeled

One large orange peeled

1.5 cups nut milk or coconut milk

1 scoop vanilla protein powder (bone broth protein if possible)
Directions
Cut all the ingredients into small chunks.
Add all ingredients to a blender.
Process ingredients, take one sip at a time, and enjoy.
Recipe Video